VICTIM SERVICES LEEDS AND GRENVILLE COVID-19
Victim Services of Leeds & Grenville is committed to keeping our clients, our staff and our communities as safe as possible during this difficult time. Staff continue to work 24 hours a day / 7 days a week as per our normal schedule. This has not changed. Our office locations, however, are currently closed to the public. At present, VSLG staff are continuing to support and provide resources to clients by utilizing telephone, texting, email and video technologies in keeping with World Health Organization policies. On-scene or in-person responses are at the request of our emergency partners only. We recognize that this is a stressful time and will do our best to ensure all individual's needs are met to the best of our ability and within the mandate of our services. We are working closely with our community partners so that we can offer a coordinated response to ensure all community members are provided services.
This page is dedicated to links and information specific to COVID-19 and resources. These resources are changing; sometimes daily however we will do our best to update them as we can.
Christmas Dinner
Brockville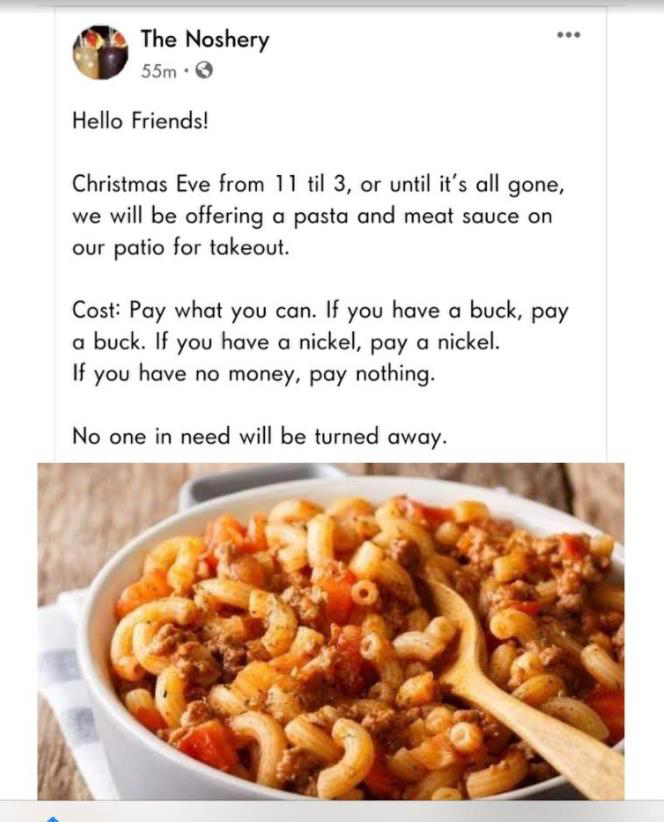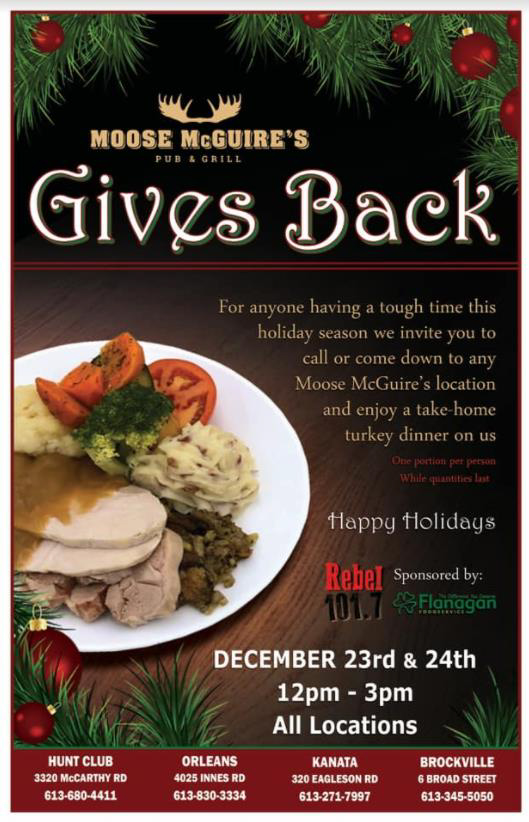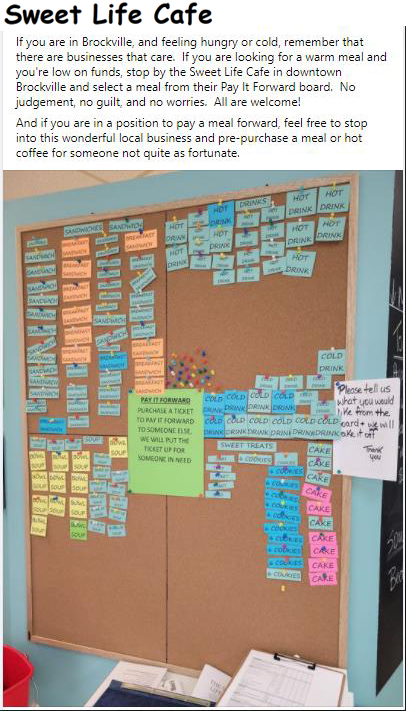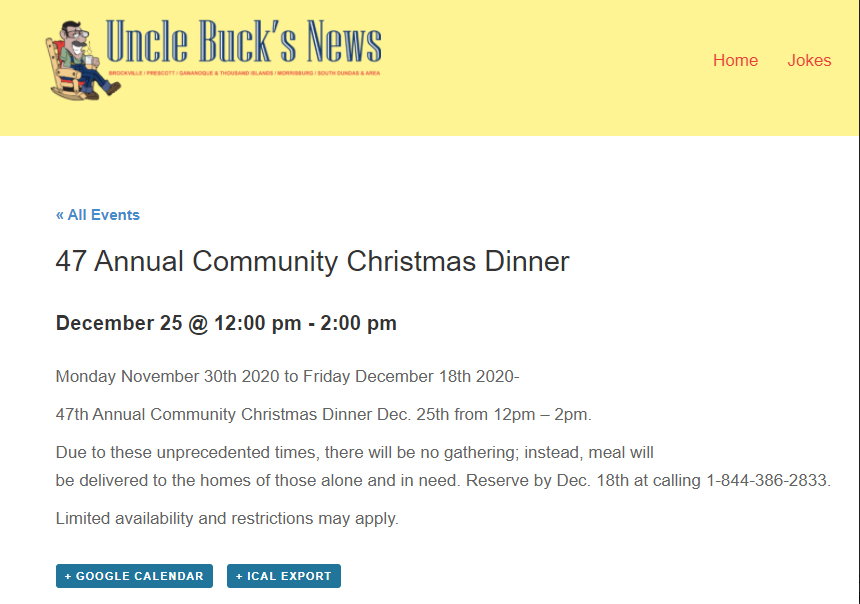 Community Christmas Dinners Lanark, Leeds, Grenville Brockville St. Francis Xavier Catholic Church - open to anybody Dec 25th , 12pm-1:30pm at the Brockville Rowing Club – Free Reservations recommended 613-498-9399 Transportation available for the elderly Loaves and Fishes – open to anybody Dec 19th , 25 Front Ave West, Brockville 613-345-6498 Perth Perth Community Christmas Day Dinner – open to anybody Held at the Codes Mill Banquet Hall 613-326-8365 or sign up on the website www.perthcommunity-christmasdinner.org 11:30am appetizers, sit down dinner at 12:30pm
Prescott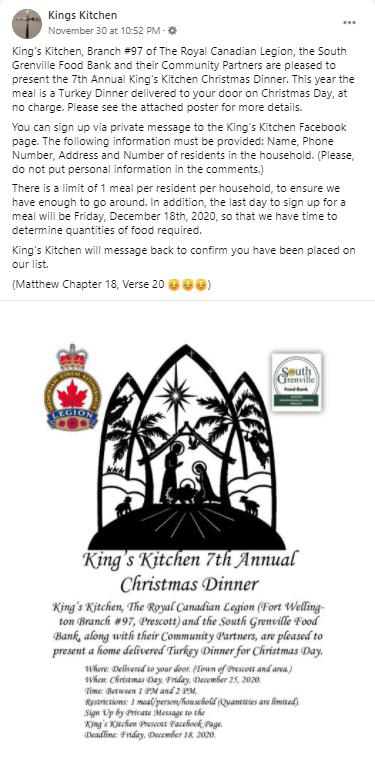 Kemptville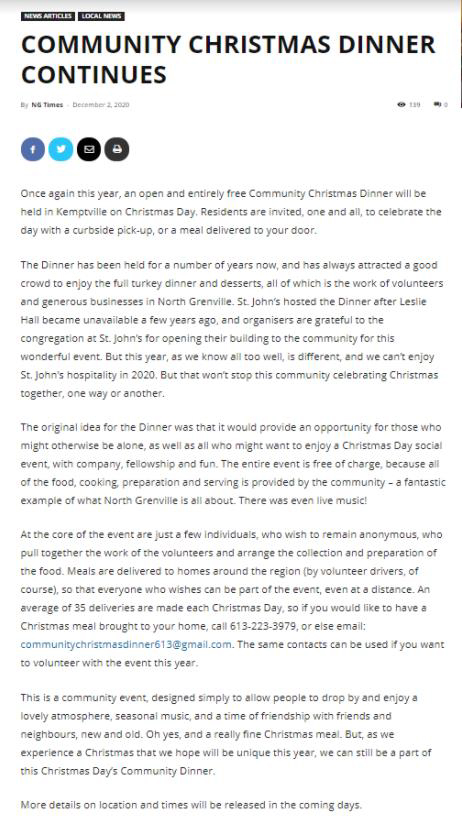 Smiths Falls
St. Francis de Sales Parish in Smiths Falls, Ontario, is once again hosting its annual Christmas Day Dinner. However, due to COVID 19 restrictions, there will be no sit-down meal this year. Instead, we are inviting those who would like a Christmas meal to contact us at 613 283 0220 or 613 283 6032 and leave their name, address, phone number and the number of meals required. The meals will be delivered to your home beginning at 11:00 am. Christmas Day. Those who prefer to pick up their meals may do so at 11:00 am. at the main entrance to Hanley Hall, located at the corner of McGill and Russell Streets. Cut-off date for meal orders is December 18. There is no cost. This meal is for residents of Smiths Falls and immediate area only. Best Christmas wishes to all!
Kingston

COVID-19 Resource links
https://www.cdc.gov/coronavirus/2019-ncov/prepare/prevention.html
https://www.canada.ca/en/public-health/services/diseases/2019-novel-coronavirus-infection.html
https://covid-19.ontario.ca/self-assessment/#q0
https://www.cdc.gov/coronavirus/2019-ncov/prepare/managing-stress-anxiety.html
https://www.ontario.ca/page/ministry-children-community-and-social-services
Health Unit - Community Based Covid 19 Assessment Centre for Brockville
Telehealth Ontario: 1-866-797-0000 or www.health.gov.on.ca
CURRENT SCAMS
Beware of new COVID-19 reported scams
Fraudsters are posing as:
Cleaning or heating companies offering duct cleaning services or air filters to protect from COVID-19
Local and provincial hydro/electrical power companies threatening to disconnect your power for non-payment
Centers for Disease Control and Prevention or the World Health Organization offering fake lists for sale of COVID-19 infected people in your neighbourhood
Public Health Agency of Canada giving false results saying you have been tested positive for COVID-19 tricking you into confirming your health card and credit card numbers for a prescription
Red Cross and other known charities offering free medical products (e.g. masks) for a donation
Government departments sending out coronavirus-themed phishing emails tricking you into opening malicious attachments tricking you to reveal sensitive personal and financial details
Financial advisors pressuring people to invest in hot new stocks related to the disease offering financial aid and/or loans to help you get through the shutdowns
Door-to-door salespeople selling household decontamination services
Private companies offering fast COVID-19 tests for sale - Only hospitals can perform the tests No other tests are genuine or guaranteed to provide accurate results, selling fraudulent products that claim to treat or prevent the disease, Unapproved drugs threaten public health and violate federal laws
For more fraud resources check out:
The Canadian Anti-Fraud Center https://www.antifraudcentre-centreantifraude.ca/index-eng.htm
TransUnion https://www.transunion.ca/assistance/fraud-victims-resources
Competition Bureau https://www.competitionbureau.gc.ca/eic/site/cb-bc.nsf/eng/h_00122.html
Or contact your local police service if you feel you have been scammed or defrauded currently.
COMMUNITY RESOURCES LEEDS AND GRENVILLE DURING COVID-19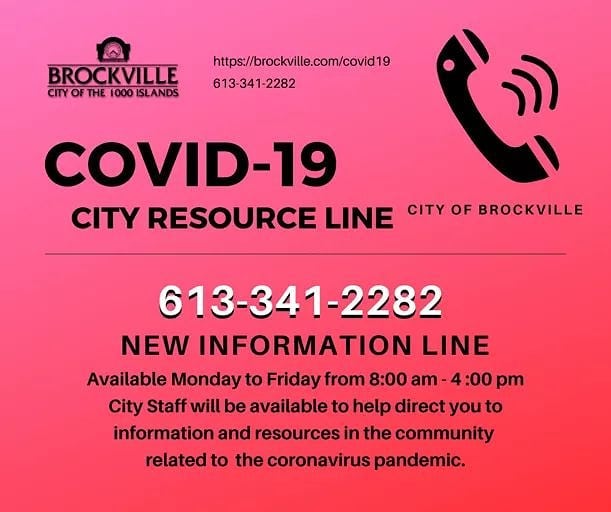 FOOD BANKS AND FOOD RESOURCES
Athens Food Bank/Crisis Fund Association:
58 Elgin St. N., 613-924-9112
regular hours; Mondays from 10am-12pm
one client at a time- volunteer filling bags y stock may be limited
Brockville Salvation Army:
175 First Ave. ,613-342-5211
regular hours Tuesday and Thursday 9am-4pm
still running food bank and family services
food bank access by appointment only
staggering appointments to ensure decreased risk of contact among clients
Brockville and Area Food Bank:
58 Buell St.,613-342-0605
Tuesday to Friday 10am-2:45pm for intake and until 3pm for "free" shelf y at this time only 5 people allowed in at once
seniors, anyone under self-isolation, families with children, anyone uncomfortable coming to the food bank can call for a home delivery.
infant products and adult absorbent briefs are available y fresh fruit & yogurt are available.
The food bank is partnering with 1000 Islands Toyota Car Dealership in offering Seniors, Families with children who can't make it in, anyone with a handicap and anyone who is sick (with a cold or flu), home delivery. You just call 613-342-0605 and speak with our intake person
Loaves and Fishes Brockville: (take away options, no dining in)
25 Front Avenue West Unit 1A Brockville, ON 613-345-6498
Providing a Hearty Midday take away Meal
Meals will be available between 1-3 pm Mon- Fri
Please stay tuned for any updates
Cardinal - South Grenville Food Bank - Food for All:
618 King's Hwy. #2, 613-657-1967
Wednesday 10am-2pm
precautions in place include: no children allowed; clients must wash hands on arrival; there is a maximum of 3 people at one time in the waiting room
clients are still able to choose their items by way of a volunteer with 6 feet distance y clients can send someone with a note to pick up for them if need be
Delta Food Bank, Delta United Church
36 King St., 613-213-4828
providing food bank services second Tuesday of every month
will be pre-packaged or one client at a time will come into the food bank
Elgin Food Bank, Bethel Tabernacle Church:
31 Water St., 613-359-6118
2nd & 4th Thursday of every month from 9:30am-11:30am
clients are not to enter building but grocery lists ready for them to fill out. Staff will put orders together and hand to client.
some diapers and a little bit of formula available but not many clients with babies at this time.
Gananoque & Area Food Bank, Gananoque Legion (basement):
55 King St E. Lower Level of Legion, 613-382-4434
Wednesday & Friday hours 12:30pm-2:45pm
infant products available y only 2 clients at a time spaced out; remainder please wait outside or in stairwell if it's raining
food orders will be bundled – no client shopping at this time
Kemptville Salvation Army:
2 Oxford St. W., 613-258-3583
Tuesday and Thursday 9-3:30pm
accepting clients by appointment only
delivery available
infant products available
canned foods and some fresh food items
Kemptville and District Home Support Inc: Seniors Community Services
613-258-3203
We are continuing to offer:
Meals on Wheels
Transportation to essential appointments
Telephone checks
Referrals and Information
All other services and activities are cancelled until further notice, including visitors to the centre
Prescott - South Grenville Food Bank - Food for All:
136 Henry St.,613-925-2444
Wednesday & Thursday from 10am-1:30pm
diapers and formula at locations where there are clients with babies (e.g. Prescott) y precautions in place include: no children allowed; clients must wash hands on arrival; there is a maximum of 3 people at one time in the waiting room
clients are still able to choose their items by way of a volunteer with 6 feet distance
clients can send someone with a note to pick up for them if need be
South Grenville Food Bank - Food for All:
16 Centre, 613-925-2444
currently hours remain the same, 2nd and 4th Thursday from 11am-1pm
precautions in place include: no children allowed; clients must wash hands on arrival; there is a maximum of 3 people at one time in the waiting room
clients are still able to choose their items by way of a volunteer with 6 feet distance
clients can send someone with a note to pick up for them if need be
Westport Food Bank, United Church, Westport:
27 Church St., 613-273-5289
delivering hampers to registered clients
no families with infants so any baby items go to to Perth food bank
new clients would need to contact Norman
Executive Taxi:
Executive Taxi offers home delivery in town for $12. Food, supplies. 613-342-2000
Restaurants with Takeout or Delivery
Downtown Brockville Restaurants List
Noshery Brockville:
Ordering veggies from their suppliers to let people shop 613-865-9969
The Sweet Life Café Brockville:
Frozen Soups for $2 each no tax. If you would like any delivered (free delivery), please order a minimum of 5. For home deliveries of the soup it will be a porch drop off and email transfer (must receive before delivery). We will have Potato Bacon, Beef Barley, Chicken Noodle, Tomato Ravioli, Stuffed Pepper.
Please call 613-803-8882 or message the page to reserve the kinds and quantities that you would like. Thank you @sweetlifecafe
Panache bakery is delivering in Gananoque: (613) 382-1412
Crazy Bowls Prescott:
Just to let everyone know Crazy Bowls is making fully cooked, frozen meals delivered to your door. All you must do is reheat. (613) 803-9360 https://www.facebook.com/pg/CrazyBowls/about/?ref=page_internal
Brigadoon (Oxford Mills): 613-258-4433
Curbside pick up available
Rapid Valley Lansdowne: 613- 659-2557
Wendy's Country Market Lyndhurst: tel:613-928-2477
Pick up orders available
Local Meat and Produce
Little sisterz restaurant in Spencerville: (613) 648-8888
Will deliver (not opposed to delivering out of town)
Dine&Dash Delivery available Westport, Perth and Lanark area.
Tired of cooking for yourself?
Time for some comfort food?
All fresh to order-never frozen
Please message me for your order at above FB page link
Meat balls & fried rice $40
Roasted chicken Shepard's pie $40
BBQ chicken/Bacon Mac& cheese $40
3 cheese & meat baked Lasagna $40
Traditional Shepard's pie $35
Chicken Alfredo $40
Italian meatballs in a marinara sauce smothered in cheese*new* $40
Pulled pork and fresh kaiser buns $40
All feed 6 adults.
Delivery available Westport, Perth and Lanark area.
Porch, front step drop off, e-transfer payment
Online AA Meetings During COVID-19
Online Meetings Directory
https://aa-intergroup.org/directory.php
https://www.intherooms.com/home/
Speaker Tape Websites
https://hacoaa.org/archives/speakers/
https://www.recoveryaudio.org/
ONLINE EDUCATION
SOCIAL SERVICES RESOURCES
United Counties of Leeds and Grenville: 25 Central Avenue Brockville, ON
https://www.leedsgrenville.com/en/government/community-and-social-services.aspx
Social Services department: toll free 1-800-267-8146
Financial Services department: 1-800-770-2170
Housing Department: 613-342-3840 ex 2450 or toll free 1-800-267-8146
Salvation Army Brockville: 613 342-5211
SHELTERS
Brockville Interval House: 1-800-267-4409
Shepherds of Good Hope Ottawa: (613) 789-8210
Ottawa Mission for Men: 613-234-1144
EMERGENCY SERVICES
Emergency: 911
O.P.P: 1-888-310-1122 OR www.opp.ca
Brockville Police: 613-342-0127 or www.Brockvillepolice.com
Gananoque Police: 613-382-4422 www.gananoquepoliceservice.com
Brockville General Hospital: 613-345-5649 or www.bgh-on.ca
Kemptville General Hospital: 613-258-3435
Family and Children Services: (613) 498-2100
FINANCIAL SUPPORT
LEGAL SUPPORT
Legal Clinic: 1-800-597-4529
Legal Aid: 1-800-668-8258
Victim Witness Assistance Program: 1-888-216-2191
Family Court support found here – https://vslg.ca/family-court-support-program.php
EMOTIONAL AND WELLNESS
Crisis Line: 5 pm – 12am 1-800-465-4442
Leeds Grenville Mental Health Crisis: 1-866-281-2911 (All office locations currently closed)
Children's Mental Health of Leeds & Grenville (613) 498-4844
Extended hours, Telephone appointments, Call-in Sessions
Lanark, Leeds and Grenville Addictions and Mental Health: https://llgamh.ca
Leeds Grenville Mental Health non-crisis: 1-866-499-8445
Telehealth Ontario: 1-866-797-0000 or www.health.gov.on.ca
Kids Help Phone: 1-800-668-6868 or info on how to text https://kidshelpphone.ca/text
Connect Youth - Mental Health Supports and Drawing Classes https://www.facebook.com/ConnectYouth01/
Links to services and resources for children, youth and parents can be found on the Every Kid in our Communities website http://everykid.on.ca/covid- 19-links. The site will be updated regularly."
EMental Health: https://www.ementalhealth.ca/
Online Wellness Program
Every weekday at 10am (until April 6th)
Moms can stop in and connect with me and each other
Use the same link as above every day
PHYSICAL WELLNESS
Eastern Ontario YMCA
Greater Toronto FB Live Event Schedule
Planet Fitness
https://www.facebook.com/planetfitness/videos/2813144112133774/?q=Planet%20fitness&epa=SEARCH_BOX
Snap Fitness
https://www.facebook.com/shannon.reid.167/videos/10163105648285057/UzpfSTM2NzkyOTMzMzQxNTU3MToxNDEzMTM2Njc4ODk0ODI2/
The Workshop Dance Studio: Kemptville
https://www.youtube.com/ channel/UCfXwcUKfzHu47Oa_ tVDktqA/featured
Get Cronk'd Fitness Studio: Kemptville, Hosting live workouts
https://www.facebook.com/ GetCronkd/posts/ 2584055251905920?__tn__=K-R
Choley's Fitness and Wellness Zoom Workouts
Choley's Fitness & Wellness Training Centre Online Workouts
SERVICES FOR SENIORS
CPHC
https://www.facebook.com/ cphcare/
A Friendly Voice: 1-855-892-9992
Available for residents over the age of 55 struggling with loneliness or isolation during the Covid 19 pandemic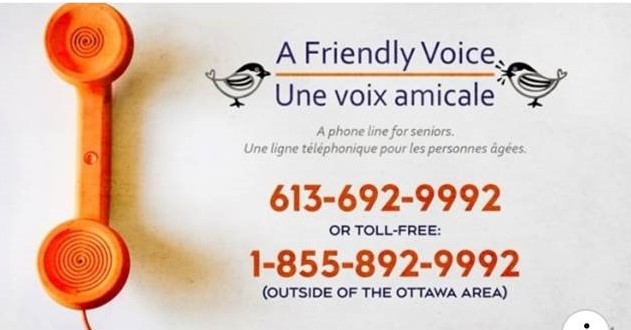 GOVERNMENT ASSISTANCE
FREE FIREWOOD
Firewood: We were just speaking with Doug Brooks at D&D Tree Service in Brockville. He said that anyone needing firewood to help keep their homes warm during the crisis can call him. D&D will deliver wood locally at NO CHARGE to folks that need it. YES - free firewood. Doug can be reached at 613-345-3963. Thanks Doug!